Bob Schmanski, Captain, Station 2. This third generation volunteer firefighter has been around fire stations since the 1980's because of his dad's service when he was a kid. Later, while studying to become a Fire Protection and Safety Engineering Technician at Oklahoma State University, he lived at a local VFD because there were no dorm rooms available, so he became a student volunteer. Bob's firefighting
experience provides valuable assistance in his career as an underwriting manager for AIG (American International Group) a large insurance company, where he writes high risk property insurance policies. "Understanding exactly what happens in a structure fire, for example, and knowing how a fire department responds," he explained, "helps me identify realistic fire risks for clients, and to write appropriate policies for them." Bob volunteers at PVFD nights and on weekends, and likes Station 2 because it is a little slower paced with fewer calls than Station 1. He and his wife, Dana -- who he says is truly his very best friend -- are the parents of Jared, 9 and Madison age 5. Bob says that during some recent family illnesses, he was amazed at the incredible support they received from PVFD members. "Thankfully, everything turned out OK, but everyone was so helpful, and we certainly appreciated this." Sometimes, Bob says, something happens that reminds you why you volunteer. "We were at a PVFD BBQ at Station 2 a year or so ago when a family pulled up in their car, and a teenaged boy got out using crutches. After a while, he came over to me and said, 'You cut me out of my car...I remember your voice. I just wanted to thank you in person.' That meant a lot to me." Bob says that after 9-11 there's no such thing as a routine call. He believes that the public is more understanding about what it takes to be a firefighter. "More folks stop us to just say 'hi' or 'good job' and they really seem to respect this volunteer role."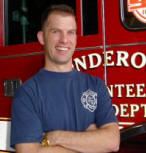 Bill Pilkington is Lieutenant at Station 2, and serves as 3rd Vice President on the PVFA Board of Directors. He, too, comes from a firefighting family -- four out of five brothers, his sister and his Dad are also volunteer firefighters. (The other brother had back surgery or he'd be one, too.) Bill attended Texas A&M where he earned his degree in Accounting and Finance. When he moved to Houston to practice as a CPA, he moved into the Ponderosa service area, so he joined PVFD. At a Greenspoint Chamber of Commerce Business After Hours, he met his future wife, Marva, who was the sales manager at the hotel where the event was held. Today, they are the proud parents of daughter Kelley (three and a half) and son Chris (one and a half). Bill is an "extreme" athlete and competes in Triathlons and Marathons. He, too, is especially interested in helping the younger volunteers at Station 2. "There is so much we can do to help those coming up in the department to gain sound, hands-on experience. This provides the necessary encouragement to the young volunteers to keep up their training to advance, and it also contributes directly to building PVFD's future." "There is so much about being a volunteer firefighter that builds a sense of belonging and pride. Here's something that you can do that satisfies a sense of adventure and action, allows you to spend time with folks who share your interests, and, at the same time, allows you to do something positive for your community."
Tony Spitzenberger has always known that he would be a firefighter; his career was simply never a topic for debate. Originally from a small town in South Dakota, Tony relocated to Houston in 1972 when his dad, who worked for Shell Oil, was transferred to the company's corporate office. He remembers the early days in the
Ponderosa service area when it was actually safe enough to ride his bike on "Jackrabbit Road", while many of the side roads were gravel and not yet paved. His family lived across the street from Ponderosa Station 1, and by 1979, Tony had hung around the firefighters persistently enough to become the first junior member to ride along without a parent accompanying him. He says that like many other firefighters and paramedics, he was a huge fan of the TV show "EMERGENCY!" as a child and credits "Gage," "DeSoto" and "Station 51" with helping to spark his career interest. While attending Westfield High School, he became a Junior Lieutenant and remembers being "called out" of class to fight fires. Tony graduated from Texas A&M Fire School in 1986. Having spent 13 years with the City of Houston Fire Department, he was recently promoted to Captain. As a volunteer with Ponderosa, he served as Fire Marshal for seven years with responsibility for statistics reporting, assessing fire scenes before calling in outside investigators, and assisting in their investigations. Later, following his election to Assistant Chief – Operations, he was responsible for overseeing the construction of all three stations and the new training facility. He is certified in Technical Rescue, HazMat, in Scuba and Rapelling, and as a Paramedic. Tony and his wife Rhonda, who met as PVFD members, have three children. His long-term goal is to retire as Senior Captain or Chief after 30 years service with the City so he can relax and enjoy their future grandchildren. In his virtually nonexistent spare time, Tony enjoys hunting and fishing.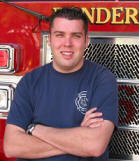 Robert Logan also lived across the street from Station 1, and started hanging around the station when he was eight years old. His career path was cemented the first time he saw a fire truck. He took a course after high school to become a Paramedic, and went on to graduate from the A&M Fire School. In 2001, Robert accepted a job with Houston Fire Department as a Paramedic/Firefighter. In reality, he now has three jobs – with Houston, Ponderosa and as a CCEMS Paramedic and dispatcher. Robert received the Dispatcher of the Year Award in 2000 and 2001. "I actually DO have a life," he explains, but he spends a lot of it sleeping, preparing for one of his jobs, or just catching up. This young man leaves little to chance, and has specific goals and objectives laid out for himself and his career. He intends to "go as far as he can go" in all his assignments, and aggressively strives for whatever is "next." He likes achieving positions of increasing responsibility, and while he admits to being something of a "control freak" about assignments, he says he has the confidence that he can do the job right. During the major 2-alarm fire at Springwoods United Methodist church that cold night in 2000, Robert served as Command for battling the fire. He is also credited with rescuing an elderly lady during a fire at the Chestnut Park Apartments. With the living room ablaze, he searched the bedroom and finally found her lying unconscious on the bathroom floor. When people ask him why he is a firefighter, he is quick to respond that he "would not be happy doing anything else. I love this job, it is everything I ever wanted to do." Originally from Brooklyn, NY, this 23 year-old has already bought his first home and works around the house as a "hobby."
JIM LUPLOW didn't start out wanting to be a fireman when he grew up in Saginaw, Michigan. Instead, he had flying on his mind. After attending Eastern Michigan University, Jim joined the U.S. Marine Corps and spent the next 8 years in the Corps' Infantry and Heavy Weapons unit and then in the Marine Reserves. In 1994 his wife, Jacquline, was offered a teaching position with Aldine ISD, so they packed up daughter Katrina and moved to Houston. His military training proved useful when Jim applied to join the Houston Police Department, and after being admitted as a cadet, he attended the Academy for 6 months. Today, Jim is a patrolman with HPD in addition to volunteering with Ponderosa. He made Lieutenant at PVFD Station 3 and was subsequently elected Captain in November 2001. Jim is dedicated and experienced in providing emergency services, and says what little spare time he has, is spent either with his family or at the station.
Patrick Casner, known around the station as "The Warden" because he is the coordinator for community services, has been with Ponderosa for about 14 years. "My brother knew someone at PVFD back in 1981, and he asked if we wanted to join up. I found it exciting and rewarding, so I'm still here," Pat explains. These days, he says he leaves most of the firefighting to the "younger" firefighters. With plenty of experience and training in pumping techniques and equipment, he has the critical responsibility for all truck and apparatus maintenance, and says he now does what he does best -- "I make water go from point A to point B." Pat is especially proud to have been asked to be an assistant instructor at the Texas A&M Fire School for Harris County for the last 5 years. When he talks about his 20 year old daughter, Tiffany -- "my pride and joy" -- Pat's grin extends ear to ear. Pat says the love of his life is Stacey, who gives him lots of support.Casner's regular "day job" is with Sear's Automotive department.
Scott Windisch, PVFD Deputy Chief, has been affiliated with Ponderosa for more than half his life. During the past 18 years he has had special training in Hazardous Materials, Technical Rescue, Vehicle Rescue, Terrorist Training, and as a Fire Service Instructor. Scott is currently working toward an Associates Degree in Fire Science, and is a Master Certified Volunteer Firefighter and an Advanced Certifified Career Firefighter. He comes by his passion for firefighting quite naturally; his dad is Fred Windisch, Chief at Ponderosa. He says firefighting was fun when he started and it's still fun now. In addition to his volunteer hours with Ponderosa, Scott has been with The Woodlands Fire Department for the past 10 years, and is now a Lieutenant/EMT. When he does take time off, Scott is an avid fisherman and enjoys a variety of water sports, including riding his personal watercraft. If you ask Scott what is the best thing about him, he'll quickly say his energetic young son, Cody.
MITCH HUBBARD has been with Ponderosa for 12 of his 30 years. Mitch graduated from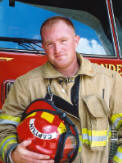 Westfield High School and went on to Harris County Community College for EMT/EMT-I basic level courses. He is currently working on a Fire Technology Degree at Houston Community College. In addition to service with PVFD, he is a firefighter/driver for The Woodlands Fire Department. Never content with the status-quo, Mitch has pursued a number of specialized training opportunities to enhance his fire fighting skills. He gained certification as a Rescue Specialist through TEEX, and has also completed courses in high-rise rescue, vehicle rescue, trench rescue, confined space rescue, and Haz-Mat. Mitch will tell you that fire and rescue "is" his life and, for now, he devotes most of his waking hours to his career. Why does he do it? "That's a very simple question," he explains. "It is fun and exciting and it's cool to be able to help people." Mitch responded to the World Trade Center disaster of 9-11 as part of the Texas Task Force.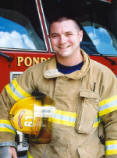 DUSTIN MCDONALD joined PVFD while he was a senior at Westfield High School. "I was hanging around with the wrong kids, and joining the fire department gave me a whole new perspective on things and actually kept me out of trouble," he explains. "After graduating, I joined the Coast Guard and served for four years as a damage controlman, stationed in New York and Los Angeles. Having trained in Marine fire fighting in the service, when he left the Coast Guard he earned his EMT and fire fighting certification at Texas A&M University. He worked for a year at the Port of Houston, and then became a career firefighter with the Conroe Fire Department and returned as a volunteer member at PVFD. If you ask Dustin what he does in his spare time, he doesn't miss a beat before answering, "Volunteer."
That may change before too long, however. Dustin and his wife Amy are now expecting their second child. "We're really excited about this," Dustin grins, "and I know I'll be spending more time with my wife in the months ahead...and that's fine with me." When he does have some leisure time, Dustin says he is an avid outdoorsman and, given the opportunity, loves to do some hunting or fishing.