Newsletters
Archives
Firefighters Complete the US&R Rescue Specialist Certificate Program at Disaster City
College Station, TX – August 23, 2015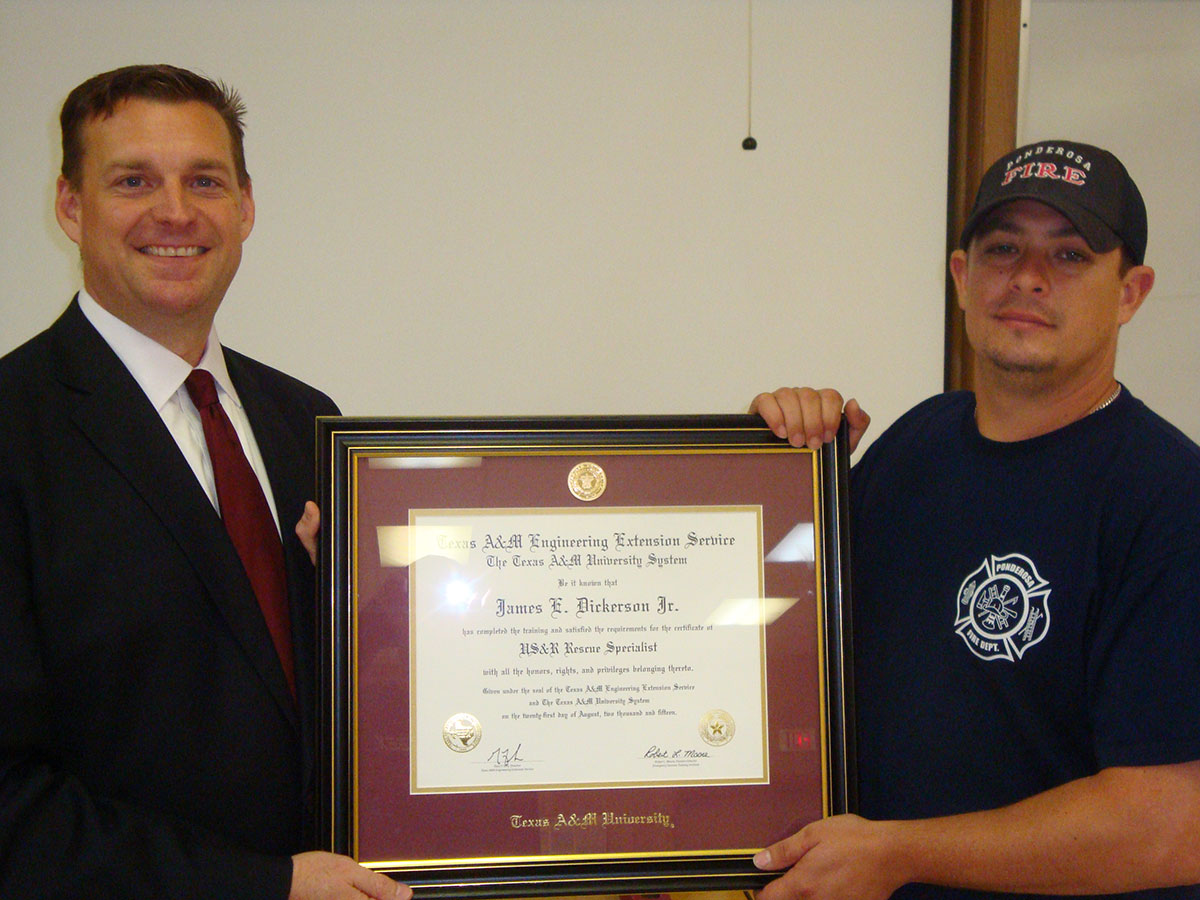 James Dickerson of Ponderosa Fire Department in Houston, TX has completed the prestigious US&R Rescue Specialist Certificate Program at Disaster City. The certificate program requires over 304 hours of advanced hands-on training at the Disaster City facility located in College Station, TX.
The Texas A&M Engineering Extension Service (TEEX) has launched their US&R Rescue Specialist Certificate Program in 2013 which recognizes members of urban search and rescue (US&R) teams who have completed advanced training. Eligible candidates must complete more than 300 hours of rigorous, advanced training in structural collapse rescue operations and other specialized search and rescue training.
Twenty-one people qualified for the new certificate following the recent Advanced Structural Collapse 5 course. To date, only 75 personnel have earned this professional recognition and include responders from Texas, New Jersey, Ohio, Iowa, Florida, Massachusetts, Tennessee, Puerto Rico, Denmark, Canada and the United Kingdom. Mr. Dickerson is the 75th recipient of this prestigious recognition.
"This is the only certificate of its kind for advanced urban search and rescue training, and very few people nationwide qualify at this point," said Brian Smith with TEEX Emergency Services Training Institute, who coordinates the program.
To receive the certificate, individuals must complete 80 hours of training in structural collapse, 50 hours in rope rescue, 50 hours in advanced exterior shoring, 50 hours in advanced interior shoring, and 50 hours in advanced breaching and breaking operations. In addition, they can choose one or more electives, which include passenger rail rescue, disaster logistics specialist, swiftwater rescue, wide area search, disaster canine search specialist and more. At least three of the classes must be completed at TEEX. "For a responder to complete this amount of training is truly a significant accomplishment," said Smith. "Graduates of this program are considered subject matter experts in the areas of constructing structural collapse shoring and in performing rescues at collapsed structures."
The courses include hands-on training in realistic structural collapses and confined spaces. Participants were able to practice conducting advanced structural collapse rescue scenarios and building of large emergency shoring systems on the exterior and interior of collapsed buildings at our specially designed emergency response training facility. The courses were a combination of classroom instruction and practical skills training taught by specialized instructors who have experience responding to some of the nation's largest disasters, including the Sept. 11th terrorist attacks, Hurricane Katrina, and Hurricane Ike.
The Ponderosa Fire Department will now have personnel with significant advanced training that can provide specialized medical care to victims trapped in structural collapses and other dangerous environments.
Disaster City is a 70-acre specialized urban search and rescue training facility located in College Station, TX. Disaster City is operated by the Texas A&M Engineering Extension Service and is the home base for Texas Task Force 1, one of the FEMA National Urban Search and Rescue teams. Disaster City is the largest and most complex training facility of its kind in the world and provides training to thousands of responders annually. The $7.7 million facility includes buildings in various stages of collapse, including a shopping mall, an office complex, a single family dwelling, a government building, a movie theater, three rubble piles, and a seven car passenger train wreck.
---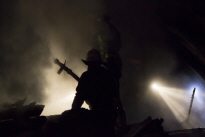 Firefighter Tragedies
An Editorial By Fred Windisch
Fire Chief Ponderosa Fire Department
The building is on fire, it's what we do, so we say. We go into burning buildings while others are running out. This is not a good year for Texas' firefighters. We have lost 18 as of June 5, 2013 and it is not a joyous time.
It has been my passion, commitment and job as the fire chief to prevent harm to you and our members, and it is difficult for me to convey my thoughts during this trying time. To help me pass my thoughts I have excerpted the following from an article in the June 5, 2013 Houston Chronicle written by Chris Hammons, dean of the school humanities at Houston Baptist University. Maybe his words will tell you the story of what we do.
I'm not sure why it hurts so much when firefighters die. The combative nature of soldiering or police work comes with the expectation that somebody will get killed. You pray it's the bad guys. And while the loss of a policeman or soldier is never expected and always painful, the unending battle between good and evil allows some frame of reference……
Firefighters, however, touch a part of us that still lives in innocence. As children, we venerate them as superheroes…… When we grow older, we appreciate the selflessness of firefighters. There really is no urgent need to save somebody's burning house. But the benevolence of firefighters pushes them to protect not only people, but property as well. They know that a burning building is somebody's home or business. And they care.
Firefighters remind us about all that is right with America, particularly in an era when it seems we focus way too much on all that is wrong. And that's why it hurts when we see them fall. Our superheroes aren't supposed to die.
Our volunteers, part time and full time firefighters are here for you providing the best service we can in both fire and emergency medical services, but there is a point when we cannot send good after bad. While we can do almost anything to save you and your property we cannot be everything to everyone. Deaths and injuries to firefighters (our parents, sons, daughters, relatives and friends) is a problem and we cannot continue to risk our lives because "it is our job". Superheroes have limitations and we have to be realistic in understanding those limitations. Even Superman with all his super powers was subject to Kryptonite.
As always, thank you for your continue support and never forget that our job is to make your worst day a better day.
---
---
Jim Luplow – One of Our Heroes


Staff Sergeant Jim Luplow recently received the Department of the Navy, Navy and Marine Corps Achievement Medal for his outstanding actions on March 20, 2011 while serving in Afghanistan. Jim is a current Ponderosa FD member on leave who has been with us since 1995. He has served us as a Lieutenant and Captain at Station 63, and he is a Sergeant with the Houston Police Department. Jim is another example of great people who serve all of us. We expect to see him back with us in October of 2011 after he finishes his second tour "over there", first in Iraq. You can read a previous article about Jim from our Winter 2008 Newsletter at http://www.ponderosavfd.org/news/2008/winter08-22961_PC-PonderosaVFD.pdf
---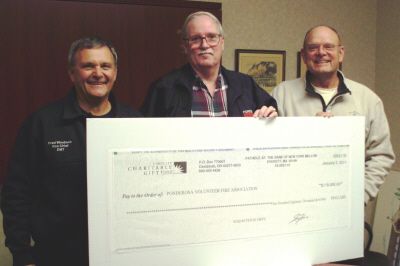 Pictured is Dan Langford (center), President Tom Wyka (right) and Chief Fred Windisch accepting a large donation from the Dan A & LaRue B. Langford Memorial Fund. The donation is from the estate of Mr. and Mrs. Langford administered by their son (Dan) and daughter, Christina Kluth. Dan also serves on our Emergency Services District board of directors. The $118,000 donation will be used to purchase specific items that will be memorialized within the fire department and establishing an education fund. A committee will be formed to administer the funds. Thank you very much for this huge donation.
---
A New Fire Station Station 62 Construction Emergency Services District #28, the funding arm of the Ponderosa Fire Department, has awarded the build contract to LDF Construction in Spring for the amount of $2,290,000, and the board approved the funding via Prosperity Bank of a replacement fire station for the current #2 station located within the Cypressdale Subdivision. The new location will be at 4362 Louetta Road adjacent to the power substation; the land was purchased in April 2008. Construction should start during September 2010 with a maximum of 270 days construction time. The current station at 18,200 Mantana was built in 1992 during a different era, and thanks are in order to the Cypresswood Utility District for their support since the mid 1980's when the first (very small) fire station was constructed there. The station has served us well, but we must be cognizant of the fact of increased responses and the risk exposure entering and leaving Cypressdale. In addition, the new location will reduce total response time by an estimated five minutes for all responses. Another factor we considered is that our professional volunteers need a better facility and we are planning on staffing the new station in the future. Recall that we have volunteers, part time and full time staff. A groundbreaking ceremony will be held in the near future. The BRW architectural firm has done a superb job assuring effectiveness, value engineering, modern design and providing a great look to our community. There is no doubt the decision process had significant concerns, but we believe our community desires the best service and facilities for decades to come. Ponderosa FD Assistant Chief Tony Spitzenberger has been our go to guy since the beginning and will follow through at his usual high commitment pace. Chief Spitzenberger deserves the bragging rights of being intimately involved in all of our facilities construction since the early1990's. The utilities (water, sanitary and storm water) have been completed. We appreciate the support and professionalism of the Bilma Public Utilities District and Jones & Carter Engineering. CenterPoint will be moving one power pole during the week of September 6, 2010 to allow for better access to the property. Another big thank you is to the Cypresswood Community Association as they donated $4,000 from the profits of the July 4, 2009 celebration. We have purchased a firefighter statue to be placed in front of the new station along with a steel beam that we are going to receive from the World Trade Center disaster. The Ponderosa Fire Department is for you – Duty Pride Commitment. Station 62 Construction
---
Ponderosa FD Round Up
Thank you! Voters approved the 1% sales tax 61 to 17 during an election on May 14, 2011 that included early voting May 2-10. Even though this was a poor voter turnout, this election will certainly allow your fire department to continue our highly regarded service that was in danger due to reduced property evaluations. Remember the effect on you is minimal since most of our fire district is already at the 8.25% maximum due to Strategic Partnerships between our water utility districts and the City of Houston. Our mission will remain and that is to provide you with the highest fire, rescue and EMS First Responder services that you deserve. Other fire district elections in the area: Spring FD/ESD 7 sales tax passed; South Montgomery FD/ESD sales tax passed; Cypress Creek FD/ESD ad valorem tax cap passed. One can interpret these elections as support for our community based emergency services and the reality of continued service improvements in today's economy with an ever increasing population. Again, thank you very much. Summer is here (already). Please attempt to hydrate yourself as much as possible to prevent heat stroke or worse. Water is still the best for you, take breaks while working outside, and always try to keep out of direct sunlight. Try to have your air conditioning checked to assure it is working properly and it also may save some costs if it is not working efficiently. The new fire station located on Louetta at Sorrel Ridge is being constructed at a fast pace due to the favorable weather. We are tentatively scheduling a dedication on Saturday, September 10, 2011. We hope to see you there to celebrate another service improvement. Responses for our area have increased this year about 6% and Cypress Creek EMS responses have increased about 9%. We are dealing with the FM1960/Cypress Creek Parkway medians and have experienced several delays during peak times. We are still waiting (patiently?) for the various entities to allow us to install the high tech traffic signal control systems. Please visit our website at www.ponderosavfd.org for various announcements and other information.
---
Sales Tax Election/span>

On May 14, 2011 there will be a special election to enact a 1% sales tax in our fire district in areas that do not have the full 8.25% sales tax. This is necessary to improve funding deficits due to property devaluations and operating cost increases. State law prevents raising of the ad valorem tax rate past the 10 cents maximum rate for emergency services districts, and unfortunately the alternative is to reduce service levels.

Emergency Services District #28 called the election at a public meeting held on March 7, 2011. Early voting will occur during day time hours May 2 to May 10 at 17061 Rolling Creek in the Ponderosa Subdivision. There will be three polling places on May 14 for the general election: 17061 Rolling Creek (Fire Station #1), 18200 Mantana in the Cypressdale Subdivision (Fire Station #2), and 21455 Imperial Valley in the Northview Subdivision (Fire Station #3) between the hours of 7 am and 7 pm.

There are several small areas within the fire district that will be subject to the 1% sales tax but must be approved by the registered voters within ESD#28/Ponderosa Fire Department.

Sales tax election unofficial results 61 in favor and 17 against
---
Archives
3 New Fire Trucks
| | |
| --- | --- |
| | |
| One of the three new fire engines now being placed in service. | Ponderosa firefighters wear their colors on Red Shirt Friday supporting our military. Members recently donated a care package to Army Special Forces member Marc Koepplinger from our area serving in Iraq. He is married and a father of three children, two girls and boy. |
---
A tribute to volunteer firefighters
In memory of John Lampl

Former Ponderosa Fire Department member John Lampl passed away today (October 28) in a vehicle accident.

He was also a former woodlands fire dept member.

We ask you to remember him in your prayers.
---

Ponderosa FD Lieutenant David Paige received his certificate of completion for the Company Officers Leadership Symposium at the International Association of Fire Chiefs annual Fire-Rescue International Conference held in Chicago August 23-29, 2010. Shown is Chief Fred Windisch and Lt. Paige. The Symposium consists of three days of intensive presentations and study over each of the past three years in Denver, Dallas and Chicago. Lt. Paige was one of 28 graduates. Congratulations!
---

Ponderosa FD Fire Chief Fred Windisch met with Congressman Ted Poe at his office in Washington DC on February 25, 2010. Chief Windisch was with a delegation of the International Association of Fire Chiefs Volunteer & Combination Officers Section. The delegation visited various elected officials and staff related to issues affecting our nation's emergency response agencies. Congressmen Poe has been a solid supporter of our nation's FIRST first responders.
---
Number 5 Is Alive !!

Engine 5 returns home
Engine 5 is dwarfed by
(foreground to background)
Engine 64, Engine 61, Rescue 61 and Tower 61

In 1972, the Spring Volunteer Fire Department saw the need to establish Spring Fire Station #3 in the Ponderosa Subdivision. A small group of very dedicated individuals formed the Ponderosa VFD and proceeded to acquire their first fire engine. The brand new fire engine cost $23,726 plus $4,770 worth of equipment. We had the opportunity to acquire our first fire engine – Engine 5 – from the Octavia-Smithville Volunteer Fire Department located in southeast Oklahoma.

Engine 5 has a storied past, from its first run from Old Town Spring to a large apartment fire at 17,100 Rolling Creek followed by hundreds of others. Ponderosa FD repainted her in the early 80's and added a "modern" light bar and other useful equipment. The Ponderosa FD sold good ole' Number 5 to the Glenn Heights Texas VFD in the mid-80's, and Number 5 served them well until they sold it to Octavia-Smithville in 2001. Number 5 is still alive because we needed her back home.

Engine 5 still runs great – yes, we drove it home - with its gasoline (no emission controls) V-8 motor, a manual 5 speed transmission, 1,000 gpm pump and 750 gallons of tank water. Yes, she needs some tender loving care, but the 375 mile drive back home went without a hitch. We hope to clean her up, get her painted and work on the wiring. After all, she is over 36 years old and has fought many fires. Look for her in the annual St. Patrick's Day Parade and other places.

Sometimes there is a need to preserve our history and Engine 5 is clearly one of the very important beginnings of this great fire department.
Moving Forward With A New Fire Station

---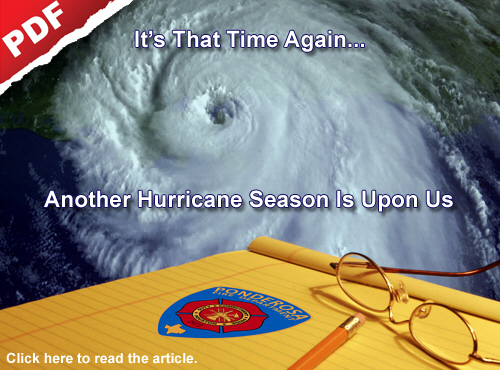 ---
---
They Are So Hot That Firefighters Have To Deliver

JERRY BAKER: FOR THE CHRONICLE
Abid Khan, center, of the WingStreet restaurant at 18539 Kuykendahl in Spring, gets ready to make a delivery with his escorts from the Ponderosa Fire Department, Mat Mason, left, and Jeff Paige, right, on March 5. The establishment recently donated $2,500 for Ponderosa FD efforts that funded the purchase Rapid Intervention Team Rescue Bags. The Bags are equipped to rescue a trapped firefighter.
JERRY BAKER: FOR THE CHRONICLE
Abid Khan, center, of the Kuykendahl WingStreet restaurant, makes a pizza delivery while his escorts from the Ponderosa Fire Department, Jeff Paige, left, and Mat Mason, deliver the wings, on March 5.
JERRY BAKER: FOR THE CHRONICLE
Abid Khan, right, makes his pizza delivery to Ty Mixon, 12, while Jeff Paige of the Ponderosa Fire Department carries the wings.
---
Six Israeli firefighters visited Ponderosa FD and other areas in the region for a week in early November. They participated in live fire training at the training facility, traveled to Texas A&M Brayton Fire Field, the DuPont chemical plant in Orange, Texas and "shopped til they dropped". They also presented a terrorism awareness overview and shared their experiences regarding the missile attacks on their homeland. On their final day they spent the day at the Texas Renaissance Festival. The group then traveled to Las Vegas, San Diego, Los Angeles, San Francisco, Washington DC and New York City.
The trip was arranged by Ponderosa FD Public Education Coordinator Marti Stein in conjunction with Houston based Israel Consul General Asher Yarden.
---
TRAINING FACILITY IMPROVEMENTS HELP KEEP PVFD
FIREFIGHTERS ON TOP OF THEIR GAME
When you view the history of the Ponderosa VFD, you view a history of pioneers. Over the past 30 years, our staff and volunteers, along with our board members and community leaders have worked together to make the PVFD a forward-thinking department of "firsts". The first department to have a ladder truck in the 1960 area, the first to bring a platform ladder truck to the region, and the first to build a state-of-the-art training facility – a facility which provides our firefighters with the tools and hands-on experience necessary to be prepared for the many challenges that come their way.

Improvements to the training facility, which was originally erected in 2001, were made possible in 2005 after PVFD received a federal grant (in the amount of $157,000) used to purchase two liquid petroleum gas (LPG) live burn simulators – a kitchen and a bed. The training facility can also be filled with "theatrical" smoke to simulate real fire conditions, while producing near zero emissions.


"The live burn simulators have basically removed the pollution associated with the original method of burning pallets and hay," said PVFD Chief, Fred Windisch. "Not only did we eliminate the trash debris and smoke, but we also eliminated the clean up of the facility and the washing of all the protective clothing every time a training evolution was performed."

Chief Windisch also explains that the largest gain from the live burn simulators was in the 'firefighter throughput'.

"In the past we could do maybe three burns in a three hour period, followed by a lot of time and hard work to clean everything," said Windisch. "Now we can do burn after burn with zero clean up. We just reset the electronic control system and do it again and again…allowing us to simulate ten burns in that same three hour window."

The 2005 grant also set the stage for the most recent improvement to the facility - the expansion of the existing training tower. After plans were approved by the Ponderosa VFD Board of Directors, work began to remove the one-story burn annex and build a two-story, four room building that resembles an apartment complex. The entire building can be used for a host of scenarios, maintaining and sharpening the skills of the firefighters.

"As a Board of Directors, we recognize the fantastic service that the entire fire department provides to our citizens," said board President, Tom Wyka. "We must provide them with the necessary resources to continue that outstanding service."

And that they do. Over the years, the dedication of the PVFD, its Board and the community it serves has not only improved the department's insurance rating from a 5 to a 4 to today's stellar rating of 3 (putting them in the top 4% of our nation's fire departments), but more importantly, it has helped us to take care of our citizens in a manner we can be proud of.
---
Hidden Costs Can Save You Dollars
Your fire department is always concerned about what it costs to live a comfortable life. One of the issues that has raised its ugly head (again) is the taxes you pay on electricity, telephone and possibly natural gas. One particular tax is the Gross Receipts Tax (GRT). The GRT is basically a franchise tax that the State allows for cities to charge based on utility companies' use of rights of ways, etc.
Our fire district is NOT in a city. It is unincorporated Harris County and your bills should not reflect a GRT. Some utility companies utilize the postal address that defines the GRT, and in our case about 80% of our fire district has a Houston mailing address (zip codes 77090, 77073, 77068 and 77014). We encourage you to contact your utility provider and demand that the GRT be removed from your bill's current and retroactive. In the case of your fire department, it took a lot of effort and the result was about a $4,000 refund on the three fire stations electric bills. The Texas Public Utilities Commission will support you and may require a letter from them.
Another issue is your fire rating on your homeowners insurance. The Ponderosa VFD is a Public Protection Class 3 department. You should review your policy and verify that the PPC is a 3 – contact your agent to assure you are receiving the cost reduction. The Ponderosa VFD is rated in the top 4% of our nation's fire department service levels. You have supported that over the years and you deserve the insurance discount.
---
Judge Ted Poe, Texas Congressman 2nd District, visited the Ponderosa Fire Department training facility to view the improvements to the training tower. The PVFD applied for a federal grant in 2005 to upgrade the live burn training capabilities by adding two LPG burn simulators - a kitchen and a bed. Also, the entire training building can be filled with "theatrical" smoke to simulate real fire conditions. These simulators produce near zero emissions versus burning wood and firefighter throughput will increase exponentially since relights are difficult and no cleanup is required. Congressman Poe is a great supporter of emergency services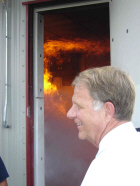 and he stated, "Because of the Assistance to Firefighters Grant Program, area emergency services will now be in a position to enhance their capabilities over a very long period of time. We appreciate what firefighters do every day, especially the volunteers who give their time and talent to their communities."
The Ponderosa VFD Board of Directors also approved the training tower expansion associated with the grant funds. The Board obtained a long term loan from Prosperity Bank to add additional live burn rooms and other improvements. President Tom Wyka said, "As a Board of Directors we recognize the fantastic service that the fire department provides to our citizens, and we must provide them with the necessary resources to continue that outstanding service."
---
---
---
PONDEROSA VFD WELCOMES NEWEST MEMBERS
After six months and 125 hours of in-depth training, Ponderosa Fire Department's newest members graduated in a ceremony held on June 13. Before graduating, each member had to meet all recruit class requirements, which included, but was not limited to, training in ladders, hoses, nozzles and live fire; an introduction to hazardous materials; CPR and first aid and organizational structure, policies and procedures.
Chief Fred Windisch commends the class for effectively meeting the many training challenges, including rigorous schedules, studying, and the passing of written and skills tests.
"This class did an outstanding job in all regards," he said. "After some 'seasoning time', this group will be an integral part of our organization."
New recruits come from many different backgrounds, professionally and personally. But all have one thing in common: the need to give back to their local community.
New member, Matt Tomlinson, a full-time staff employee at Cypress Creek EMS, agrees.
"Ponderosa VFD has an outstanding reputation for providing top notch fire protection, suppression and other services for their community," he said. "I wanted to be a part of their family."
Tomlinson also feels the training provided was first-class and prepared him well for his new role.
"The training has given me the confidence to be an active firefighter. I've learned, among other things, about fire behavior and how to be effective in both fighting and preventing fires," he said. "This training has allowed me to be part of an elite team, providing a service that not everyone is cut out for. I'm very proud to be a part of it."

The new Ponderosa VFD members are now certified by the Texas State Firemen's and Fire Marshal's Association as Introductory Firefighters and they are well on their way to achieving Basic Certified status.

Thirteen year-old junior member, Brian Turley also completed the full 125 hours of training, and will be able to apply those hours and receive his certification when he turns 16. Until that time, Brian will be involved in all operations outside of the danger area, including taking equipment off of trucks, working in the rehab area and participating in all training evolutions.

"Finishing the training and graduating was a real feeling of accomplishment, like when I went to District with my school football team…and we won," Turley said. "I'm excited about completing this. It brings me one step closer to my ultimate goal of becoming a firefighter."

Brian's dad, Matt, is a long-term member of PVFD, his brother, Bruce, is a recruit firefighter, and his mom, Janette, and sister, Amanda, are members of the Ponderosa VFD Rehab Team -- talk about a total family commitment!

From the entire Ponderosa VFD organization, we congratulate our newest members (listed below) and look forward to the contributions they will make to our team and to their community.

Ponderosa VFD Graduates
Richard Carter
Mark Calub
Glen Hunsberger
Bobby Rampy
Larry Sellens
Michael Storms
Matt Tomlinson
Brian Turley (Junior Member)
If you are interested in a chance at becoming a Ponderosa VFD volunteer firefighter, click here for more information on our next training class, which will begin sometime between mid-August and September of 2005.

| | | |
| --- | --- | --- |
| | | |
| (From left to right) Matt Turley, Father; Brian Turley, PVFD Junior Graduate; Jeanette Turley, Mother; Bruce Turley, Brother; Amanda Turley, Sister. | | (From left to right) Eric Anderson, Spring VFD Deputy Chief; Glenn Hunsberger, PVFD Graduate; Robert David, Spring VFD Firefighter |
| | | |
| | | |
| Jr. Captain, Rick Reeg pinning badge on Graduate, Larry Sellens | | Matt Tomlinson, Graduate |
| | | |
| | | |
| (From left to right) Anja Storms, Mother; Dustin Storms, Brother; Michael Storms, Graduate; Jason Kwas, Stepfather | | Graduate, Richard Carter with Girlfriend, Venessa Leblanc |
| | | |
| | | |
---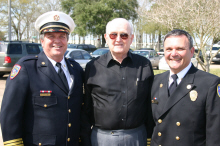 Ponderosa Fire Chief and former Harris County Fire Marshal Fred Windisch joins current Harris County Fire Marshal Mike Montgomery (left) and former Fire Marshal J. J. Pruitt (ret.) at the March 1, 2005 groundbreaking ceremonies for the new $8.2 million Fire & Sheriff's Training Academy located on Atascocita Road. Precinct 4 Commissioner Jerry Eversole's leadership has made this dream a reality. The three gentlemen pictured have all contributed their vision and expertise during the design process.

Remembering 9-11 PowerPoint™ Presentation/font>

The above file is 13 megs and may take some time to download depending on your internet connection.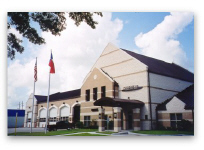 Ponderosa VFD Headquarters Has Become a
Neighborhood Landmark
After 10 years of careful planning, the Ponderosa Volunteer Fire Department headquarters become a reality in 1998, and is now a showcase for state-of-the-art fire fighting skill and equipment. Thanks to an outstanding, forward-thinking Board of Directors, the organization was poised and ready to acquire land when it became available at a surprisingly affordable price in 1992, well under market value. The dream was finally on the drawing board.
With the assistance of experienced fire fighters and an architect who served as a volunteer Board member for Harris County ESD #28, the facility began to take shape. The process of designing a highly functional building that would accommodate live-in fire fighters, include electrical generation capabilities, and also be home to the organization's administrative team finally moved into the construction phase.
The completed PVFD structure incorporates more than 19,000 square feet and was built at a cost of $1.6 million financed over 15 years at a rate of 5.676 percent. Thanks to the very generous efforts of the Board member/architect, much of the construction materials and fixtures were acquired at very favorable prices. The construction manager and administrative assistant also donated hundreds of volunteer hours to help complete the project within the projected timetable, under budget and without any increase in taxes.
Today, the Ponderosa Volunteer Fire Department headquarters proudly stands as a monument to cooperation and ingenuity.