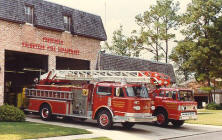 In December, 1972, a few dedicated individuals decided a fire station was needed in the area of I-45 and FM 1960 to serve the new, growing area. This group started with nothing -- no fire truck, no fire station, and no money. Money was raised through donations and a two bay fire station was constructed in the Ponderosa Forest subdivision. The station was known as Spring Volunteer Fire Department station number three. A 1972 Ward La-France pumper was the station's first engine. A Pierce mini-pumper joined the fleet in 1975. In 1976, the Ponderosa became its own department.

Two additional bays and an upstairs training room were constructed in 1977. The majority of the construction was done by the firefighters. A light rescue truck was added to the growing fleet in the same year. The late seventies saw the addition of another Pierce pumper (our first top mount pump panel) and our first ladder truck -- a 75" American LaFrance. The area was growing and we were running over 50 calls a month.

In the early 80's, we acquired two new pumpers to replace the original apparatus. The fast-growing Cypresswood / Cypressdale area emphasized the need for another station to shorten response time. Andy Meyer (Fire Marshal at the time) took on this project and Station 2 came online and expanded our capabilities.
At this point, we saw the need to replace our fund-raising mechanism -- donations -- with a rural fire protection district. The cost of apparatus, the need for budgetary planning, and the need to boost the commitment from the business community and apartments dictated this move. By the mid-80's, a Pierce 95' platform and a Pierce heavy rescue vehicle were at station 1.

During the 1990's, we constructed Station 3 to serve the Inverness Forest, Northview and Willow West subdivisions along with the growing apartment complexes, and Station 2 was replaced. An emergency services district replaced the RFPD in the mid-90's. Throughout this decade, apparatus replacements were made to keep up with fast-moving technologies. A 100 ft. platform truck replaced our older platform in 2009, and a Pierce rescue truck replaced the 1986 model in late 2000. In 2010, we opted to replace three engines with new Pierce Velocity's via a lease purchase plan. The new engines are state of the art with significant improvements in handling, braking, foam system, and other enhancements to better serve our public. During 2011 a replacement #2 fire station will be completed.
The property tax on this required community service is only 10 cents per hundred dollars of evaluation. That means a $150,000 property pays only $150 per year. Our service cost is less than $48 per capita compared to full career fire departments of over $160 per capita. The 2011 budget is $2,000,000 that includes all expenses, benefits and capital expenditures. 65 volunteer fire fighters, a career fire chief, nine career fire fighter, and a pool of part time career fire fighters working Monday through Friday during daytime hours serve the community. A full time office manager supports the business end.

Property insurance companies pay claims for losses arising out of any number of causes — from a burst washing machine hose to a major hurricane or earthquake. However, in terms of dollars paid by insurance companies, fire constitutes the single largest cause of property loss. In 2000, for example, fire and related losses came to more than 35% of all homeowners losses, compared with about 23% for water damage and freezing, 20% for wind and hail, 5% for theft, and 11% for all other homeowners' property losses. In contrast, liability claims accounted for only about 6% of homeowners' losses. In the decade from 1991 through 2000, fire losses for all lines of insurance, personal and commercial combined, totaled more than $122.9 billion. ("Growing Pains"; January 2004 Fire Chief Magazine By Patrick McLaughlin, Senior Vice President, Insurance Services Office, Inc.)

Our Public Protection Class insurance rating is a "3". As of 2010, there are only 647 fire departments nationwide, 134 in Texas, with a better rating placing us in the top 6% of our state ratings. This high efficiency rating reduces insurance expenses every year so make sure your insurance agent understands that we are a PPC3. A direct comparison is that a homeowner in our district can experience an annual savings of about $70 per year between a Class 3 and Class 6 fire department thereby reducing the tax burden. Remember that every insurance company has specific costs related to their policies.

We are deeply proud of the steady growth of our fire fighting capabilities over the past thirty-eight years -- from one station with one truck making 50 runs a year to three stations with eight apparatus making 1400 runs a year. At every step along the way we had but one objective -- to be prepared to respond in the shortest possible time to the emergency needs of the residents in our service area utilizing skilled, highly trained personnel and the latest in fire fighting and rescue technology. We live by our Mission –

Duty Pride Commitment

This level of capability does not just occur -- it is the result of careful long-range planning, a very supportive board of directors, continuing education, and the unwavering support of the community we serve. Ponderosa has met the challenges in the past, and has the commitment to do so in the future.

FIRE FACTS
Fire is the third leading cause of accidental death in the home; at least 80 percent of all fire deaths occur in residences.
Cooking is the number one cause of fires.
About 2 million fires are reported each year.
Many others go unreported.
Careless smoking is the leading cause of fire deaths.
About 3,000 citizens die every year due to fires.
In 2010, PVFD responded to 1400 fire, EMS and mutual aid calls.